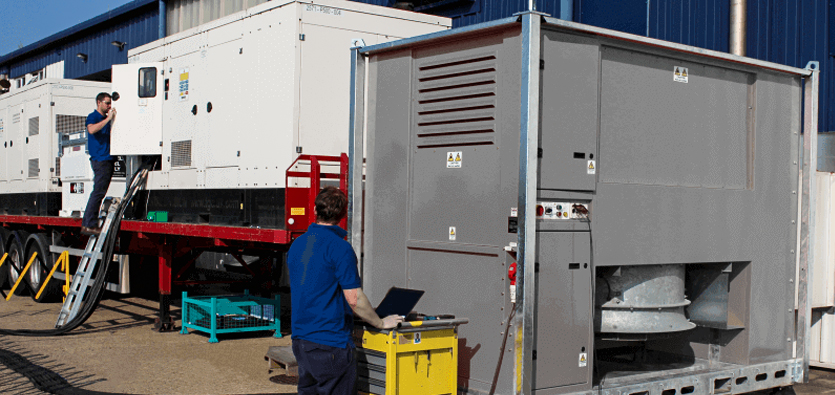 The dependence on power at residential areas, construction sites, hospitals, industries, etc. means a growing demand for back up generators and maintenance services. Sensitive industrial, IT, and communication infrastructure demand a reliable and uninterpretable supply of power. There is no use of a backup power generator if it does not work when needed. Without regular inspection and maintenance, generators stop working efficiently, especially when running underloaded. If maintenance is delayed for a long period of time, the engine would fail completely. The function of load bank testing is to maintain backup units in good working condition.
Load banks are utilized to establish an artificial load to on-site power generators. Most of the companies rely on permanently installed load bank to avoid engine damage, especially when a project is in its initial phase and there is lack of sufficient building loads. Permanent or rental load bank solutions also help companies provide loads to the generators as a weekly exercise. The techniques to connect a load bank with a generator may vary depending on the intended purpose. Following is a process to help understand the idea:
Manual transfer switch: is used to connect a generator with a load bank or building load to carry out testing.
Automatic connection: a circuit breaker on the generator connects a load bank with a generator. Load bank is turned off automatically and its load is removed from the power generator.
Permanent connection: a permanently connected load bank operates automatically and it senses the building loads and operates accordingly.
Resistive load banks ensure the sound operating conditions of your standby generators. The testing process can be performed without causing interruption to the main power line. One of the benefits of performing regular testing is that parts of generators stay in good condition even if they are not in use. Dust, moisture, and elements can badly affect the performance of a unit. Therefore, regular maintenance and testing are essential in order to extend the service life and maintain the efficiency of the power system.
Power Systems Plus is a renowned power solutions provider in Canada. The company offers a diverse range of products and services from rental generators and load banks to installation, placement of equipment and commissioning. Power Systems Plus designs, manufactures, tests, installs and services power systems, load banks, and other complementary products to meet clients' power needs.
Contact us to get a free consultation and see how we can help you improve your existing power infrastructure.