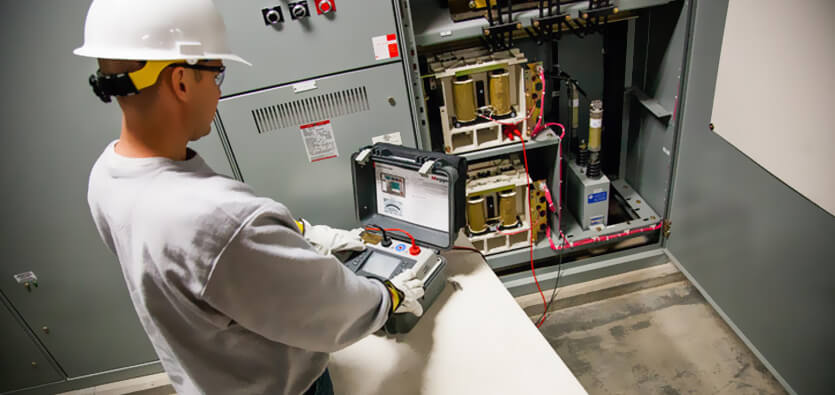 The deterioration of electrical equipment starts taking place as soon as the equipment is installed and become operational. However, if the deterioration process is not monitored and controlled, it can lead to malfunctions and equipment failure. Moreover, power managers may carry out circuit alterations or load changes without overall design coordination which can result in inappropriate equipment selection or wrong trip devices installed in the circuits. The equipment testing and preventive maintenance should be designed to identify critical factors and thoroughly address them.
Electrical preventive maintenance (EPM) can help discover and correct potential hazards that may cause equipment failure. Properly maintained power systems reduce downtime by minimizing the chances of big failures. In order to carry out the effective operation of electrical equipment, it is essential for your business to have testing and maintenance programs in place. You can either get preventive maintenance services from a private company or you can set up your own maintenance department.
The maintenance program usually consists of conducting routine checkups, tests, repairs, inspections, and the service of power equipment such as generators, transformers, circuit breakers, control panels, etc. A business can use rental load bank services to test and commission diesel power generators. Testing your power generators with load banks is one of the technique to maintain your power equipment in good working condition.
Companies need dependable power solutions to ensure non-stop operations. Production plants, offices, and even homes are equipped with dependable backup power generators and telecommunication devices. For a business, loss of power means loss of time, production, and resources. An uninterruptible power supply is critical for a production facility. This is why it is inevitable to conduct preventive maintenance programs so that your generators and other power equipment produce the expected output.
Diesel generators can support heavy load for long hours and start off the power supply on full load within minutes. However, to achieve the optimum results, you need to regularly maintain your diesel generators and other power systems. Regular maintenance is the only way to ensure that your generators are providing power throughout their service life.
Power Systems Plus is a turnkey operation where we provide a comprehensive range of preventive maintenance services to a broad range of industries in Canada. We service the standby, primary and emergency power industry. Our services are designed to maintain your power equipment which is critical to safe and uninterrupted operations. We also provide installation services for emergency generators, associated equipment, load bank sales and rentals, and custom control panels. Call us for a free consultation!